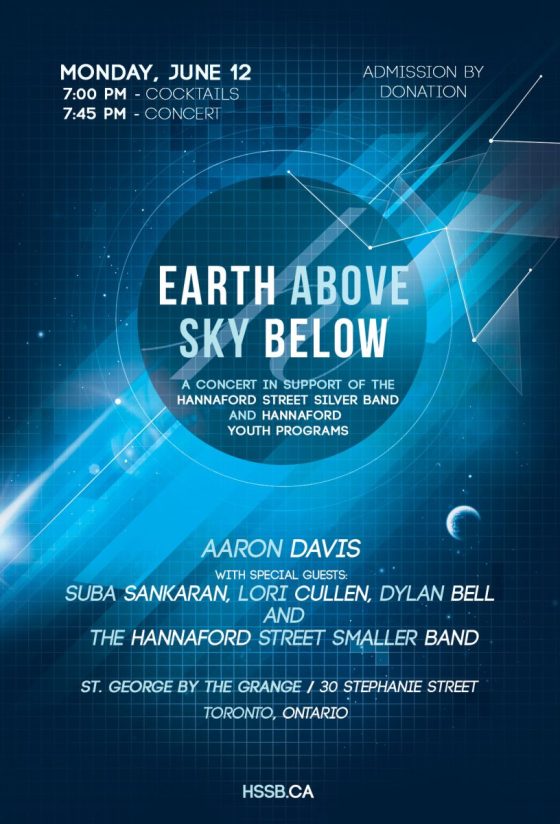 Earth Above, Sky Below
Date:

Time:

19:00

Venue:

St George by the Grange – Toronto
Concert and Reception in Support of the Hannaford Street Silver Band and Hannaford Youth Programs
St. George by the Grange Anglican Church, 30 Stephanie St., Toronto
The Hannaford Street Silver Band is proud to partner with Aaron Davis, Suba Sankaran, Lori Cullen, and Dylan Bell in an incredible evening to raise money for the Hannaford Band and the Hannaford Youth Programs.
This concert will feature compositions by Aaron Davis arranged for rhythm section and 10 powerful Hannaford horns. Davis is known for his work as composer, arranger and pianist for Holly Cole, Measha Brueggergosman and for the worldbeat band Manteca, and the repertoire will include settings of poems by poets such as W.B. Yeats, Gerard Manley Hopkins, songs Davis co-wrote with Ron Sexsmith as well as instrumental songs that Davis wrote during his 12-year tenure with Manteca.
Vox:                  Lori Cullen
Vox:                  Suba Sankaran
Vox and bass:     Dylan Bell
piano:                Aaron Davis
guitar:                Rob Piltch
drums:               Ben Wittman
With David Pell and the Hannaford Band!
Please Register by donation to Attend as Space is Limited
This is a Fundraising Event with Admission by Donation
Tax Receipts will be issued for donations over $25.