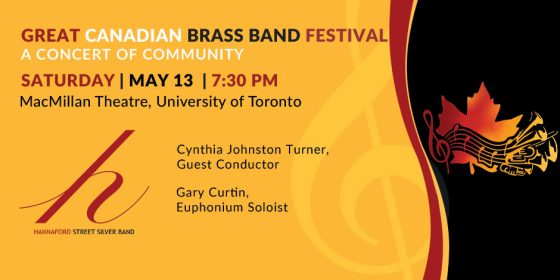 GCBBF Gala
Date:

Time:

19:30

Venue:

MacMillan Theatre – U of T
Join us for an unforgettable evening at the Gala Concert of the Great Canadian Brass Band Festival!
Unfortunately, conductor Philip Smith will no longer be able to join us due to a family matter; however, the spirit and camaraderie of our incredible brass band community shines brighter than ever.
We are thrilled to welcome Cynthia Johnston Turner, former Director of Bands at the University of Georgia and newly appointed Dean of Music at Wilfrid Laurier University to lead the Hannaford Band in the Festival Gala.
Featuring renowned virtuoso and Foden's Band Principal Euphonium Gary Curtin as soloist, this concert of spectacular brass music includes brand new works commissioned from Marcus Venables and Juno Award nominated composer Kristofer Maddigan.
We are delighted to come together to showcase the unwavering unity of our exceptional brass band community and this concert is a testament to the unbreakable bonds that unite us.
Join us for this extraordinary Gala Concert and be part of a magical evening!
Tickets: $25/$22/$18